Finish off your Big Kahuna burger, put those bloodthirsty revenge plans on the back burner and turn down 'Stuck In The Middle With You' for a sec; tickets are officially on sale for unmissable meta-musical Tarantino Live. Fresh off a successful stint in the States, the show is shimmying on over to London's Hammersmith, bringing the iconic scenes of Tarantino's Cinematic Universe to life with a lethally epic dose of musicality and Broadway-style spectacle. You'll be able to catch it at Riverside Studios, located just over 2 hours from Bristol, from June 6 to August 13 – you better grab your tickets today before they disappear faster than you can say "a Royale with cheese".
What can you expect at Tarantino Live?
Tarantino's films have no shortage of catchy songs and powerful anthems that add an extra layer of gravitas, and in some cases, inject a bit of twisted humour (ahem, torture scene in Reservoir Dogs) into the scenes. At Tarantino Live talented vocalists and actors will give these familiar pieces of music the theatrical treatment, belting out songs such as Son of a Preacher Man, California Dreamin', Django and Bang, Bang (My Baby Shot Me Down) among many more. I'll give you two guesses for which song comes from which film – apart from Django, that's a given.
Of course, there's no Tarantino-inspired musical without an action-packed, heart-thumping story behind it and For The Record's production pulls out all the stops – unlike a certain Death Proof car. Five badass female characters from his films, named the Fox Force Five, have teamed up to take on the Tyranny Of Evil Men; cue lots of fighting, heart-in-mouth sword-swishing and goosebump-inducing vocal performances. This is an exhilarating tapestry of his most well-known scenes – think the Pulp Fiction dance, the Inglourious Basterds' cinema going up in flames, and the Kill Bill knife fight – all stitched together to create an entirely new storyline. The squeamish among you might want to brace yourself for a bit of blood splatter and limb-loss, this is Tarantino after all.
Not only that but every rock 'n' roll rendition will be performed by a live orchestra, ensuring you are sucked into every moment on stage as infectious rhythms and melodies fill the venue – dominating your brain the way only live music can. The musical production already went down a storm in Los Angeles, with glowing reviews rolling in from theatregoers, such as:
💬 Carlos O – ⭐️⭐️⭐️⭐️⭐️ "Awesome experiences, great performances by the cast…looking on getting tickets to experience it again"
💬 Priscilla A – ⭐️⭐️⭐️⭐️⭐️ "The voices on the cast were amazing, the story mashup of the Tarantino movies was perfect, I can't say enough how great it was!"
💬 Paul H – ⭐️⭐️⭐️⭐️⭐️ "Talent was amazing. Blew me away! Each cast member's performances with other live musicians and the weaving of Tarantino stories was really just too good."
💬 Philip W– ⭐️⭐️⭐️⭐️⭐️ "This was one of the greatest shows I've ever been to."
Plus, it even got the stamp of approval from Quentin Tarantino himself, so you know you're in for something special. Why don't you take his word for it and get your tickets now? Just make sure you don't get mixed up in any shady business with suited gangsters beforehand, you're gonna want to keep your ears for this one.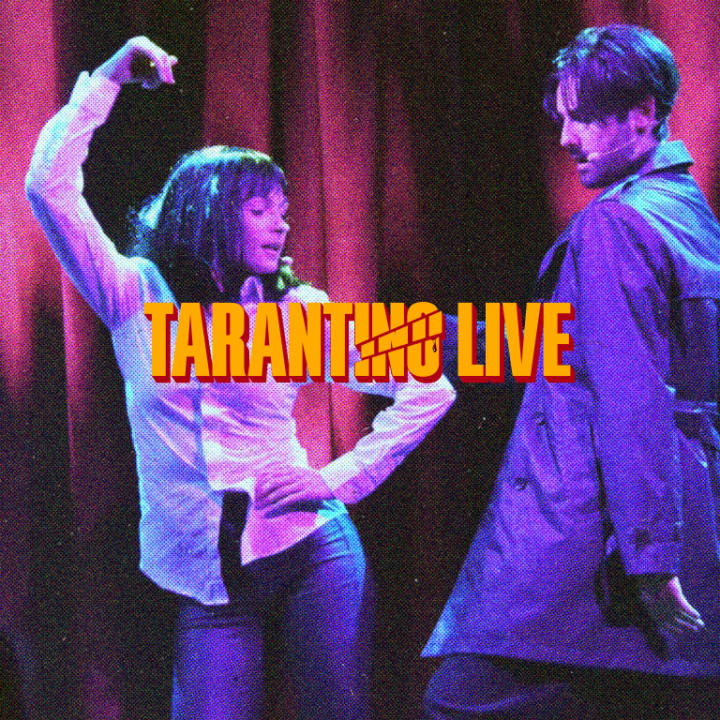 Tarantino Live: A Rock Musical
---